Kids Love the Rich Taste of Research Reactors
Home / Musings Home
So earlier today when my bosses and I left the Media Union via the loading dock door in order to go to the Grid meeting, we noticed that there were two University police cars, three state police SUVs, two Michigan Department of Environmental Quality vehicles, and a semi-truck containing a large metal cylinder with a radiation placard all parked by the Ford Nuclear Reactor Building, and that the entire area was cordened off with "Police Line - Do Not Cross" tape...
---
On the way back from said meeting, the police were all still there and told us, "No, you can't come in here until after 6:30. You'll have to go to another door." Now, five cop cars and two DEQ vehicles and a police line around the University's 2-Megawatt nuclear reactor is definitely the kind of thing I would want to get some pictures of, but I didn't have my camera with me. Luckily, I was able to borrow a digital camera from the Media Union. Unfortunately, all of their good cameras were checked out, so I ended up with an extremely old low-resolution model. I managed to get some decent pictures nonetheless: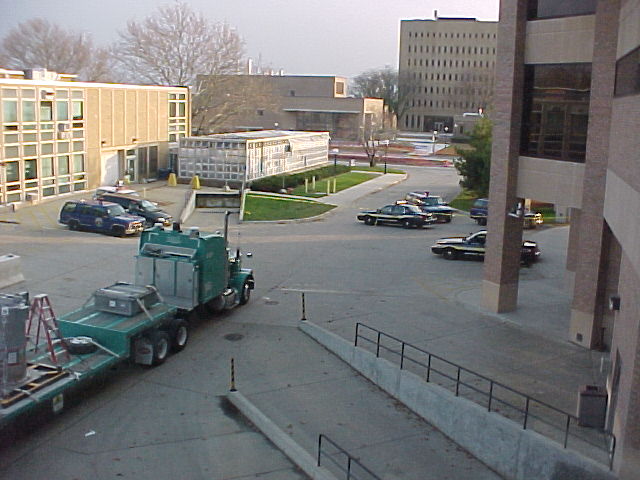 The scene as viewed from the 2nd floor of the MU.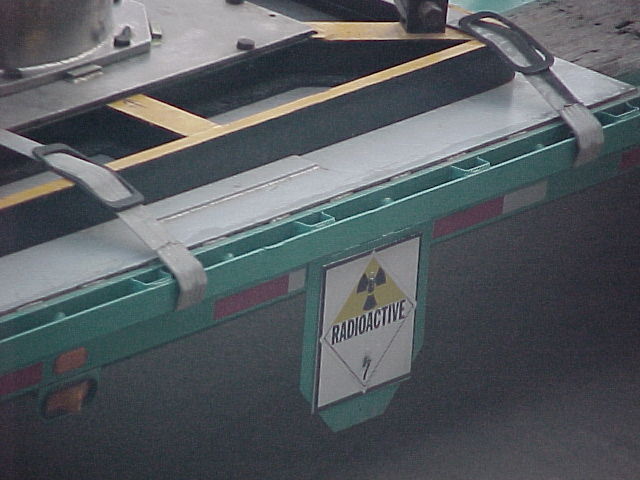 Ha ha ha ha ha -- the radioactivity is definitely in the house!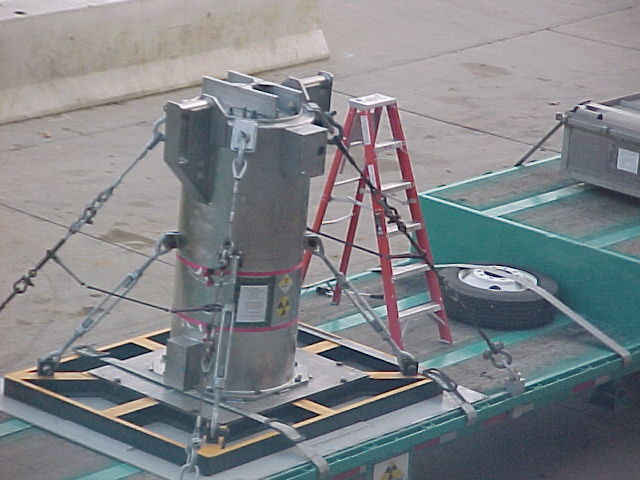 I wonder if that's one of the nuclear wessels... :)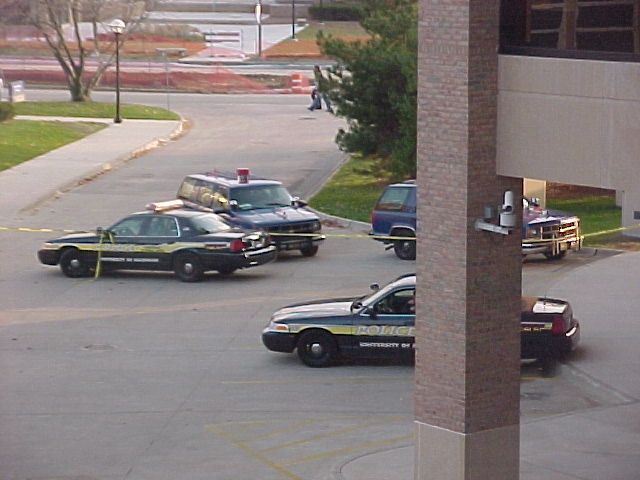 Here's one contingent of cops.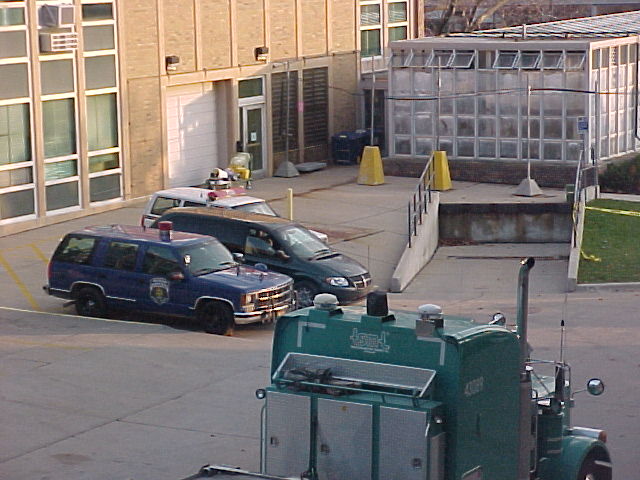 And here's another, along with the DEQ vehicles.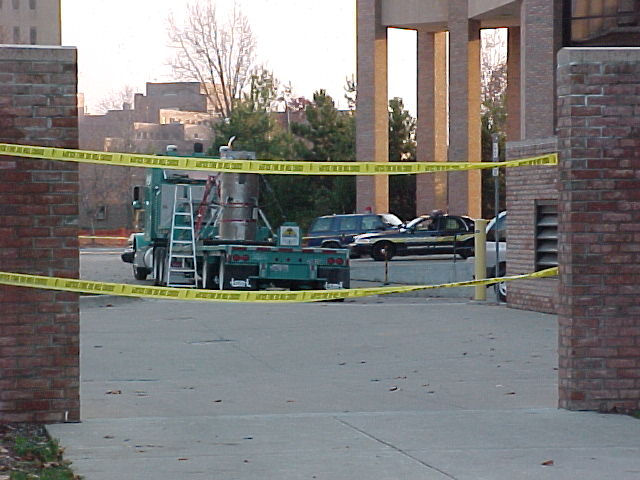 Can't get in from this side...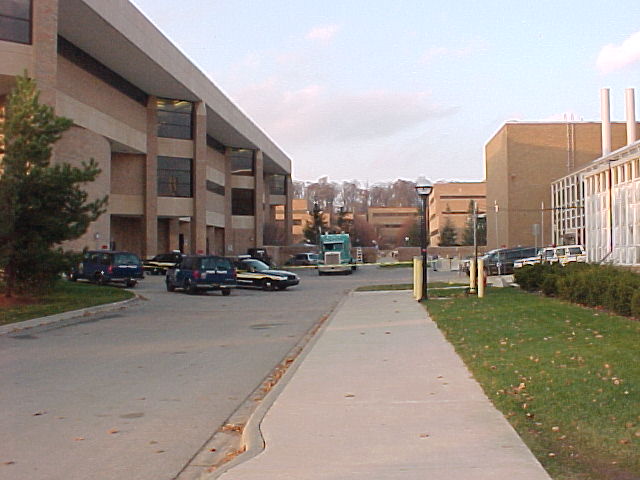 ...nor from this side.

Here's the actual reactor building. A bell could be heard ringing periodically from inside the building.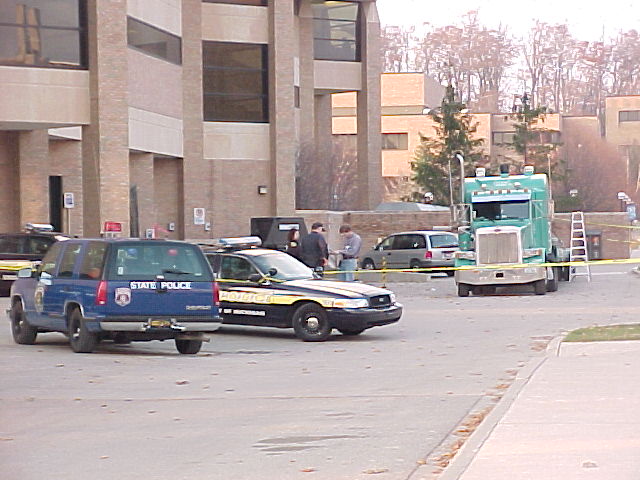 Some kind of an impromptu pow-wow appeared to be going on between the police and one of the workers.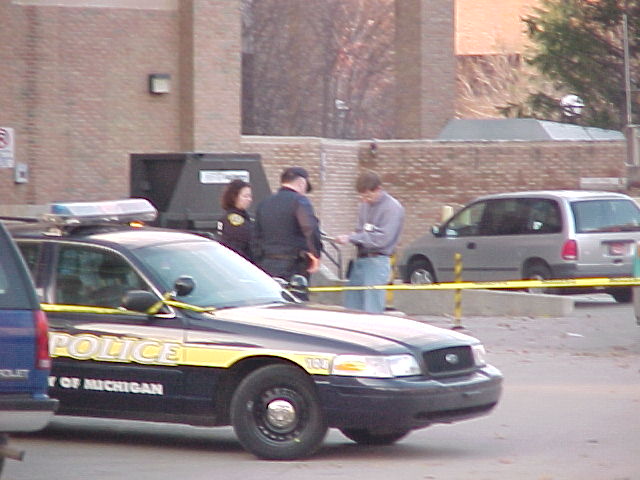 The Media Union's camera had a great optical zoom lens, but unfortunately it didn't come with a tripod...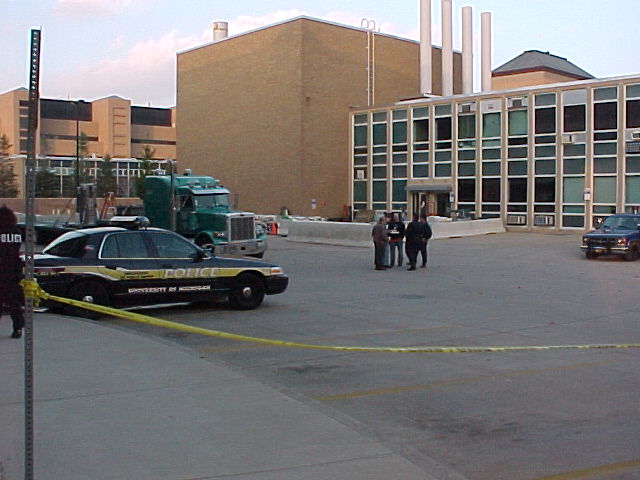 Their little conference went on for some time...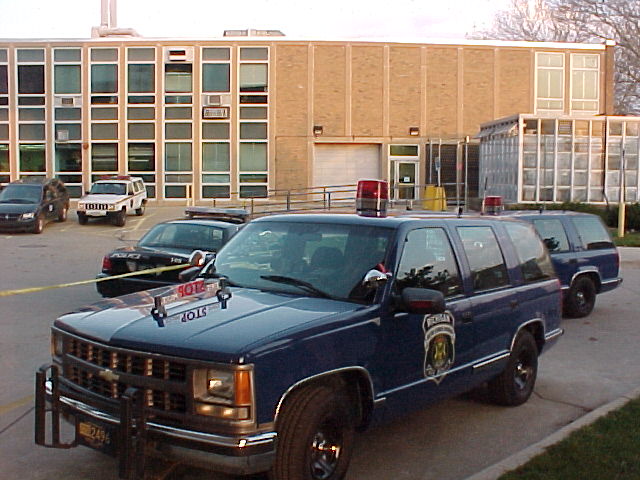 A police officer approached me as I approached the police line and asked what she could do for me. Although she said that she wasn't allowed to say what was going on, she was actually very courteous and professional; a refreshing change from my previous encounter with the police last summer. (That was with the Kalamazoo police, not the Ann Arbor police, but still...)
After taking these photos, I found a University website saying that the reactor had been shut down in July 2003 for decommissioning. So I guess they were probably just removing the fuel or waste or some other potentially dangerous piece of equipment which they didn't want stolen by terrorists or whomever. In any case, there's a cool picture of the reactor control room at the bottom of this article that I found on the Michigan Daily's site.
---